The "Grannies for Peace" event on Valentine's Day was truly a "Heartfelt" success. Immediately upon emerging from the Colonie Mall, a spontaneous remark spread through our ranks: "THAT WAS SWEET, WASN'T IT?" How appropriate for the Day!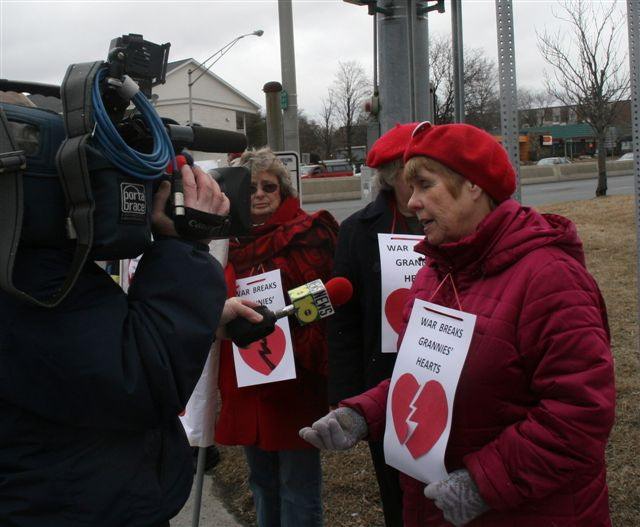 The number of participants who gathered at 3:00 for the vigil on the corner of Wolf Rd. and Central Avenue was impressive. Our visibility was excellent-- with our red hats, coats, shawls, and contrasting white, black and red "WAR BREAKS GRANNIES HEARTS" signs hanging from our necks. Our brand new "Grannies for Peace" buttons were distinctive and we now have a supply on hand for our use. We were pleased to have new participants who added energy and numbers to our group.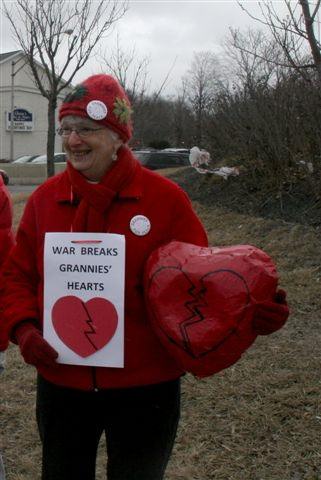 After one half hour, we walked two-by-two in file up Wolf Road and through both levels of the Mall, singing the repeated chant, "ALL WE ARE SAYING…IS…GIVE PEACE A CHANCE." After about another half hour a Security Guard approached Maud who said that his boss wanted us to move outside the Mall for our vigil. She advised him that we were just about to leave and so a situation was avoided. Both Channels six and thirteen carried the event on the Evening news and it was reported in the Schenectady Gazette (2/15) and the Times Union (2/17). CONGRATULATIONS TO ALL FOR A JOB WELL DONE.