Women Against War Afghanistan Project
Our Goals:
· To advocate for replacing the US military occupation of Afghanistan with development and diplomacy.
· To educate ourselves and others in the Capital District about Afghanistan, Pakistan & the need for a negotiated, regional peace settlement
Our work on Afghanistan began in November 2008 and is coordinated by a planning committee of
women that meets monthly.
Recent News:
October 2012: 2 million friends for peace in Afghanistan
November 2011: In an effort to support the representation of Afghan women at the December 5th peace negotiations, Connie Houde suggested that we all wear a green scarf and have a group photograph taken at the November 17th Women Against War annual meeting.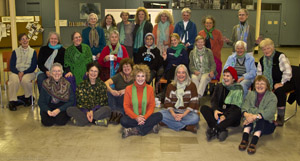 Our picture will be added to the many from around the world that will be posted outside the December 5th Bonn Conference. Women wore a wide variety of green scarves and a group photo was taken that night. This picture was then sent to be displayed with other photos from supporters around the world.
Read more about what the Afghan women are asking:
The Afghan Women's Network: After the United Nations fourth World Conference on women in Beijing-china, which was attended by a group of Afghan women from various organizations and UN agencies, the idea of establishing a network to promote unity and cooperation among Afghan women, was formed. Inspired by women's movement in different parts of the world, in 1995 the participants along with other Afghan women decided to establish the Afghan Women's Network.
Taken from AWN position paper: Afghan Women: Towards Bonn and Beyond
The women of Afghanistan are the most under-utilized resource in Afghanistan -- a resource that could be instrumental for successful peace and a stable
country in the years to come. Afghan women have the right, the capacity, and the desire to participate in crafting Afghanistan's future, defining the terms of transition, and shaping the peace process.
Despite many positive advancements in Afghan women's lives over the past ten years, progress remains fragile and at times limited to rhetoric. There have
been countless numbers of resolutions, laws, policies, action plans and strategies to empower the women of Afghanistan, but the track record for
their implementation remains appalling. Anticipating gatherings of world leaders and major regional actors in Istanbul, Brussels and Bonn, Afghan
women emphasize that any roadmap for economic development, peace, stability and security will not achieve its vision if it does not explicitly address
women's inclusion and participation. Women consistently remind policy makers to uphold their existing commitments and frame transition plans based on
protecting advancements in human and women's rights and acknowledging the sacrifices Afghan women make for protection of those rights.
The first Bonn Conference in 2001 established a new framework for the Afghan state. Much of women's achievement in the past ten years can be attributed
to the vision set forth in 2001. Therefore, Afghan women expect that ten years after Bonn, their achievements and struggles for rights and freedoms
will not only be strengthened but also promoted and advanced during the 2011 International Conference on Afghanistan in Bonn. Afghan women, as half of
the population, are half of the solution and want to contribute to aspirations and commitments for a better future for their communities and
children.
After ten years of international engagement, Afghanistan is looking to move ahead. Democracy, human rights, development, peace and stability are the
issues on the minds of many Afghans. However, the question of how the transition process will uphold the promises made regarding protecting
constitutional rights and the concerns raised by women groups and civil society at large remains.
Past Events and Speakers: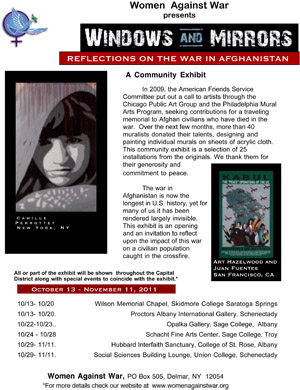 From October 13, 2011 through November 11, 2011 Women Against War was privileged to present a community-wide exhibit: Windows and Mirrors: Reflections on the War in Afghanistan. This artwork was part of a larger display commissioned and prepared by the American Friends Service Committee.
For hosting all or part of the 25 large and colorful murals we thank thefollowing institutions and their staff, as well as the dedicated WAW members who worked on logistics, media events, panels and speakers. Our appreciation goes out to Skidmore College, College of Saint Rose, Sage Colleges, Union College and Proctors Theater By lending us their walls to create this brief region-wide mural these institutions helped to break down the walls that keep us separated from the real effects of war. Each beautiful accessible space became one part in a moving tableau of vivid panels, associated speakers, and community art events that broadened the possibilities for people to learn about the consequences of the long war in Afghanistan.
Because of the investment of so much time, energy, cooperation, and organizational effort we were able to reach out to a new, receptive audience of students, faculty, and members of the entire Capital District community and to expand the conversation about the experiences of Afghan civilians who have died or been injured or displaced during this very long war.

Working with all of the people who supported the six locations where Windows and Mirrors appeared was a new experience for Women Against War. The response of the academic, arts, and theatre community has been warm and encouraging. We've all enjoyed the learning and teamwork that took place and hope that it will continue into the future.
October 13 - November 11, 2011: Windows and Mirrors: Reflections on the War in Afghanistan, 2010
Women Against War is sponsoring a three-week series of exhibits of 25 murals by artists from around the world reflecting on the War in Afghanistan. The series begins on October 13. The war in Afghanistan is now the longest in U.S. history, yet for many of us it has been rendered largely invisible. Windows and Mirrors: Reflections on the War in Afghanistan is an invitation to remember and be stirred to protest the impact of this war on a civilian population caught in the crossfire. Click here to see the poster and a flyer with details about the exhibit dates and venues. See below for all events, or download a flyer.
Oct. 13 - 20 - Wilson Memorial Chapel, Skidmore College,
815 N. Broadway, Saratoga Springs, NY.
Hours - 8 a.m.-10 p.m. daily -(limited hrs. on Oct. 13)
Special Events
Thursday, October, 13, 5 – 6:30 p.m. Lecture and dialogue: Donna Marsh O'Connor, "No End in Sight." Gannett Auditorium. Donna Marsh O'Connor is the mother of 3 children. Her
daughter, Vanessa, murdered on 9/11/2001, worked in the South Tower of the World Trade Center. At the time of her death, Vanessa was five months pregnant. Since 9/11, Donna has worked to counter the discourse of hate and fear that has been the primary mechanism of
America's violent responses to the tragedy of that day. Donna Marsh O'Connor is an adjunct faculty member in the Writing Program at Syracuse University and has taught writing and rhetoric for over 25 years.
Monday, Oct. 17, 5 – 5:30 p.m. Wilson Chapel Exhibit reception: "Windows and Mirrors - Reflections on the War in Afghanistan."
Wednesday, Oct. 19, 5 – 6:30 p.m. Lecture and Q and A: Ed Kinane, "Eyewitness in Kabul: one month on war torn Afghanistan,"
about the effects on the people of Afghanistan of our 10 year war. Davis Auditorium. Ed Kinane just returned from a month in Kabul and was in Iraq with Voices in the Wilderness for five months at the time of "Shock and Awe" in 2003. He has been a lifelong activist for social causes, having traveled in Africa for three years and joined the anti-apartheid movement there and in the U.S.
Oct. 14 - 19 - Albany International Gallery, Proctor's Theatre, 432 State Street Schenectady, NY
Hours - 9:00 a.m. - 5:00 p.m. Mon. - Fri.
Friday, October 14 5 - 7 p.m. - Opening Reception
Oct. 22 - 23 - Opalka Gallery, Sage College,
140 New Scotland Avenue,Albany, NY.
Hours - 1 - 6 p.m.
Special Events
Sunday, Oct. 23, 4 p.m. Reading - Helen Benedict will read from her new novel Sand Queen. Opalka Gallery, Sage College,
Culled from real life stories of female soldiers and Iraqis, Sand Queen offers a story of love, courage and struggle from the rare
perspective of two young women on opposite sides of a war. Helen Benedict is the author of five novels and five books of
nonfiction, including The Lonely Soldier. She is a full professor at Columbia University's Graduate School of Journalism.
Oct. 24- 28 -Schacht fine Arts Center, Russell Sage College,
Division & River St., Troy, NY
Hours - 9 a.m. -5 p.m. Monday - Thursday, 5 -9 p.m. Friday
Special Events
Monday, Oct. 24, 11 a.m. - Seminar on Women in War - Helen Benedict (see above)
Bush Memorial Hall, Russell Sage Campus in Troy
Friday, Oct. 28, 5. - 9 p.m. - Reception as part of Troy Night Out.
Oct. 29 - Nov. 11 - Hubbard Interfaith Sanctuary, College of St. Rose, 959 Madison Ave., Albany
Hours - 9 a.m. - 8 p.m. Mon. - Fri., 1 - 5 p.m. Sat. & Sun.
Special Events
Wed., Nov. 2, 1:15 - 2:30 p.m. Women Speaking Against War- Connie Frisbee Houde, Mabel Leon & Maureen Aumand from
Women Against War.
Friday, Nov. 4. 5-9 p.m. First Friday Arts Night
Wed. Nov. 9. 1:15 - 2:30 Faculty Panel on The Human Cost of War - Annual Interdisciplinary Conversation in Ethics.
Oct. 31 - Nov. 10 - Social Sciences Building Lounge - 2nd Floor, Union College, Schenectady.
Hours - 9 a.m. - 5 p.m. Mon. - Fri.
Friday, October 22, 2010: David Rovics In a Benefit Concert for Women Against War's Afghan Well Project
5:30 PM, Potluck Dinner, with Music by the Solidarity Singers and Sybil Allyson & Dave Pallas
7:00 PM, David Rovics in Concert
Delmar Reformed Church
386 Delaware Ave, Delmar, NY
David is an internationally known performer of socially conscious music who has been featured on Democracy Now!, the BBC, Al-Jazzeera, and other networks. The 200+ songs that he makes available on his website (http://www.davidrovics.com) have been downloaded more than a million times. David has performed in two dozen countries and on four continents. His essays are published regularly on CounterPunch and Truthout, and he has been interviewed for The Progressive and other progressive publications. The Afghan Well Project raises money to benefit the people of the village of Mir Taqi Shah, south of Kabul. Please bring a dish to share for the potluck. There will be a suggested donation of $10 per person (more if you can, less if you can't). Sponsored by Women Against War. For more information or to reserve a ticket, email simaada@yahoo.com.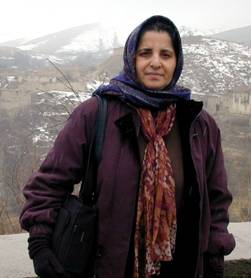 Women Against War brought back Fahima Vorgetts to speak at more Capital District locations. Fahima spoke about the impact of the US military occupation and her development work in Afghanistan – including the Afghan Well Project to bring clean drinking water & irrigation to the village of Mir Taqi Shah, for which Women Against War is raising the needed $10,000.
Fahima Vorgetts of Women for Afghan Women
Speaking with Slides
Sunday, March 7, 2010
12:30-1:15 PM
Afghanistan's Heartbreak, Afghanistan's Hope.
Islamic Center of the Capital District, 21 Lansing Rd, Schenectady.
Tuesday, March 9, 2010
12:50-1:45 PM
Afghanistan's Heartbreak, Afghanistan's Hope.
Pizza & Politics series.
Union College, Social Science104.
7:00 PM Mercy Center, 310 So. Manning Blvd.
Wednesday, March 10, 2010
7:30 PM.
The Plight of Women in the Afghan
War. University at Albany, Humanities, Rm. 137.
Co-sponsored by Women's Studies/IRO, UUP
& Women Against War.
All events free and open to the public.
Opportunities to donate to the Afghan Well Project, postcards for Congress & literature will be available.
Fahima Vorgetts, an Afghan-American from Maryland, fled Afghanistan during the Soviet invasion. Fahima has dedicated her life's work to improving the conditions of women in her native country. She spent May 2009 in Afghanistan, where she travels several times each year.
Fahima has been involved in other well projects, opening new schools for girls and literacy classes for women, creating income-generating projects for widows, and arranging for the shipment of medical and school supplies and clothing to refugees.
Fahima has addressed the United Nations and traveled widely speaking at university conferences and religious organizations, appeared on many television and radio programs, including the BBC and NPR and been featured in articles in the Baltimore Sun and the Washington Post.
Fahima is the winner of several awards from peace and human rights organizations. She is an inspiring, charismatic speaker who possesses wisdom on the realities in Afghanistan and recommendations on how the US should and should not be involved.
· Fahima Vorgetts of Women for Afghan Women, Nov. 2008
· Marilyn Hoffman of Peace Action and Connie Frisbee Houde, local photojournalist and WAW activist, June 13, 2009
<![if !vml]>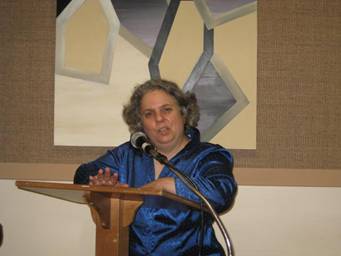 <![endif]>
Marilyn Hoffman
<![if !vml]>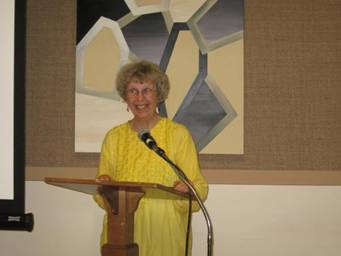 <![endif]>
Connie Frisbee Houde
· Kristele Younes of Refugees International, date
· Now scheduling Connie Frisbee Houde for community talks following her September - October 2009 trip to Afghanistan
Lobbying Sens. Schumer & Gillibrand and Reps. Tonko & Murphy:
· Delegations to their offices.
· Petition circulation.
Book Discussion Groups:
· Punishment of Virtue by Sarah Chayes
· Kabul in Winter by Ann Jones
Organizations Providing Humanitarian Aid in Afghanistan:
American Friends Service Committee http://www.afsc.org/middleeast/ht/display/ContentDetails/i/17601/pid/673
This organization would be a good resource for learning about the programs run by Afghans with in Afghanistan.
The American Friends Service Committee carries out service, development, social justice, and peace programs throughout the world. Founded by Quakers in 1917 to provide conscientious objectors with an opportunity to aid civilian war victims, AFSC's work attracts the support and partnership of people of many races, religions, and cultures.
AFSC's work is based on the Quaker belief in the worth of every person and faith in the power of love to overcome violence and injustice. The organization's mission and achievements won worldwide recognition in 1947 when it accepted the Nobel Peace Prize with the British Friends Service Council on behalf of all Quakers.
They have two programs one relating to education and building schools and one related to wellness and are largely run by Afghans.
The Peter M. Goodrich Memorial Foundation http://www.goodrichfoundation.org/index.php
The Peter M. Goodrich Memorial Foundation was created following Peter's death on September 11, 2001. It is a 501(c)(3) tax exempt public charity with Tax Identification Number: 02-6147550.

Its purpose is to support the love of learning for its own sake, especially by those naturally curious, imaginative, dreamers like Peter, thought not well suited for it, and to encourage the search for those thin places that separate what we are taught to believe is true from what really is, give aid to those who unselfishly approach those perilous places, and help discover means of peaceful passage through them to clearer understandings of our natural world and its people.
During May and June, 2009, the Foundation will join others in raising funds for victims of the Nangarhar Earthquake who work at WADAN and have lost family and homes. WADAN is the indigenous non-governmental organization that oversees the Foundation's work in Afghanistan.

The Foundation is shifting its primary focus in Afghanistan to SOLA, an NGO and non profit in the making, that provides vocational and educational support services to returning Afghan exchange students and those who wish to come to the US for educational opportunities.

In the United States, the Foundation supports a number of male and female Afghan exchange students.

The Foundation intends to build a school library in Bamyan province. The Shuhada Organization will direct all aspects of the project.

The Foundation partially funds the food, fuel, and clothing needs of fifty orphans in Wardak and staff members charged with educating, nurturing and protecting these victims of conflict. Recently donations purchased a flock of sheep to lay the groundwork for economic self sufficiency for the orphanage, schools and health clinic in the village.

In both Afghanistan and the United States, our hope is to contribute to a new generation of citizens and leaders capable of devising solutions to complex problems.

Past Projects

The Foundation constructed a 26 room K-8 school in the province of Logar. The school was conveyed to the government of Afghanistan and dedicated in April 2006. Last year the Foundation funded the construction of two bathrooms for staff members, a septic system and piped water to the interior of the building.

During the spring of 2006, it also completed second smaller project: a well, reservoir and water distribution system in a village in Kunar. Former Afghanistan Deputy Interior Minister, Shamahmood Miakhel, supervised both projects.

The Foundation currently relies on an indigenous non-government organization, the Welfare Association for Development of Afghanistan (WADAN), to provide critical advice andoversee its work. To learn more about WADAN, please use the link below:

Welfare Association for Development of Afghanistan
International Assistance Mission http://www.iam-afghanistan.org/
This is a faith based organization that I (Connie Frisbee Houde – lilyconnie@verizon.net) have worked with for the past 5 years. They are dedicated to serving the Afghan people. I have traveled with a photographed their eye care program know as NOOR (National Organization for Ophthalmic Rehabilitation)
Women for Afghan Women http://www.womenforafghanwomen.org/
Women for Afghan Women (WAW) is an organization of Afghan and non-Afghan women from the New York area who are committed to ensuring the human rights of Afghan women.

WAW promotes the agency of local Afghan women through the creation of safe forums where Afghan women can network, develop programs to meet their specific needs, and participate in human rights advocacy in the international sphere.

WAW raises funds for the reconstruction of Afghanistan, particularly schools and health facilities for women and children. Recognizing that the ability to earn their living is fundamental to the empowerment of women, WAW supports the development of vocational training programs for women in Afghanistan who have been denied access to education and professional training.

The inclusion of women in all decision-making processes is a requirement of a democratic society. WAW advocates for the representation of women in all areas of life in Afghanistan: political, social, cultural and economic.
Afghans for Civil Society http://www.afghansforcivilsociety.org/

Afghans for Civil Society (ACS) seeks to bring about a democratic alternative for Afghanistan that opposes violence and extremism and encourages a nascent civil society.

ACS programs promote community empowerment and citizens to play a greater role in determining Afghanistan's destiny. ACS is committed to increasing public participation in the decision-making process through democracy building, policy development and independent media.

ACS projects are generally conceived to be implemented within specific, targeted areas in order to achieve immediate and long-lasting results. Whenever possible, ACS programs are generated and directed by members of the local community to help ensure their sustainability and to promote the sense that every Afghan has a direct stake in their own future and, ultimately, in the shape of their country.

The organization is actively involved in economic and institutional development and returning Afghanistan to a peaceful, productive and democratic society. By forging direct links with scholars, experts, Afghan citizens and schoolchildren around the world, we hope to promote cross-cultural understanding so a unified Afghanistan can take a positive place in the international community.

Since 2002, ACS has implemented programs in five major areas to achieve an integrated approach to strengthening civil society (small image to right):

Working across ethnic lines, genders and tribal affiliations, we are dedicated to the notion that political performance should be measured in terms of substantive improvements in the lives of citizens.

Afghans for Civil Society's approach to reconstruction focuses both on technical assistance and democracy building efforts. Consistently working with local communities, ACS seeks to address critical needs in Afghanistan and works to build progress toward peace and security through a range of projects and programs.
WHAT YOU CAN DO TO HELP!
· Come to our next event: Mon, Jan 18, 2010
7:00 PM
Afghanistan Project Meeting
lbany Friends Meetinghouse, 727 Madison Ave.
Planning for winter projects including book discussion group, return visit of Afghan-American speaker Fahima Vorgetts & more speaking by local photojournalist Connie Frisbee Houde recently returned from Afghanistan.
· Join one of our lobbying groups. E-mail info@womenagainstwar.org.
· Show your opposition to the war with our button (photo) and bumper sticker (photo).
· Schedule Connie Frisbee Houde to speak this fall after her return from Afghanistan. E-mail: lilyconnie@verizon.net.
· Sign up for our Afghanistan list to be notified of speakers & events. E-mail info@womenagainstwar.org.
· Donate to help us pay for speakers, literature, buttons, etc.