News
Save the date: Nov. 1, 2012: 6:00 – 9:30 pm: An invitation from Nancy Smith, creative inspiration, and coordinator of "Our Pieces of Peace"
First Unitarian Universalist Society of Albany, Channing Hall, 405 Washington Avenue, Albany, N.Y. 12206
Grannies and their cosponsors plan this to be a relaxed evening of sharing artistic messages in varied forms regarding peace. (Poetry, song, drama, newspaper articles, quotes, commentary on diplomacy.) Learn more.
May 25, 2012: Grannies Mark Mother's Day with Focus on Corporations That Profit from War
Grannies for Peace May 7th, 2011 March and Vigil in Albany
On a sunny Saturday morning,
In Albany's tulip-crowned Washington Park,
Amid the strolling families,
Noisy youth,
Art, and food, and craft booths,
25 grandmothers marched for peace.

Dressed in funeral black, walking single file behind a black draped 'coffin,' we marched silently to the cadence of a slow-rolling drum. We marched because it was Mothers Day weekend and we wanted to send out the message about the original purpose of Mothers Day. We wanted people to understand that Mothers Day was founded in 1870 after the Civil War with a two-fold purpose. Yes, it was a way to honor our mothers. However, it was also a way to declare that mothers everywhere should never again suffer the anguish of seeing their children die, or be injured, through war.
We marched because we mourn with the mothers of Afghanistan, Iraq, Pakistan, Libya, Gaza and the US who have lost their children to warfare and military occupation. We marched in silence to express our grief for the actions of our government that continue these wars. We marched. And then we stood in silence around that black coffin, to let people know that these wars break our hearts, and as grandmothers and mothers we cry out for negotiations to end all of these conflicts now. We marched and we stood as witnesses for peace. And the people in Washington Park – some agitated, many more supportive – took notice. It was truly something to behold.
From Dahlia Herring, Co-coordinator of the event
Click here for a photo gallery from the event.
Grannies for Peace Valentine's Day 2011 demonstration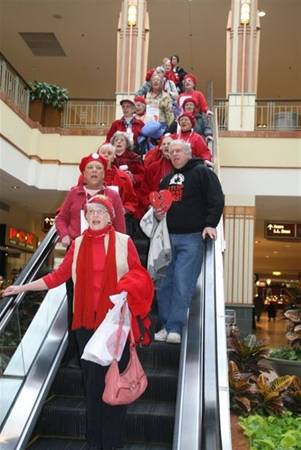 Grannies for Peace had a splendid, very colorful Valentines event on Sunday, serenading shoppers with peace songs at Colonie Center – we were not asked to leave which is a good omen for future demonstrations in this new "public square"! See Mabel Leon's beautiful photos below of our Colonie Center experience and our demonstration afterwards against the Afghan War on Central Avenue. We got lots of positive responses from shoppers and cars driving by!
We reached an even larger audience with good coverage on Channel's10's late PM news and 2 great photos, of Anita Paul and of Dot Richards, with a short story A Call for Peace in the Times Union. Dot did a post-event interview with The Spotlight, with which Mabel shared her photos, too, so look for coverage in this week's issue. Barb Cooley and Dot Richards did a great job coordinating the event!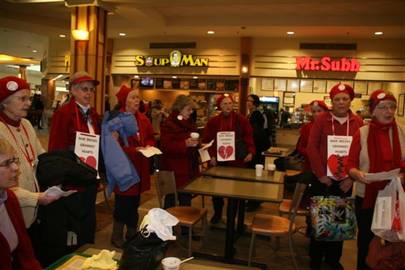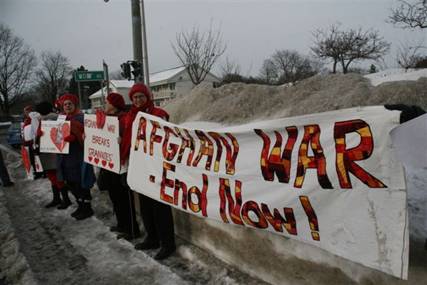 Read more about the Grannies for Peace October 2010 Demonstration Against War in Afghanistan
Information the 2010 Valentine's Day Event: Press Release | Report from Event