---
WAW Cosponsorship
▪ End the US-Cuba Embargo
▪ The Sanctuary for Independent Media
▪ Ft. Drum Peace March
▪ Muslim Solidarity
▪ End the Occupation of Iraq
Calendar/Events
▪ WAW Calendar
▪ Other Events
Past Projects
▪ Grandparents Day with Grannies for Peace
▪ Women and Peacework
▪ War is Warming
▪ Eyes Wide Open
▪ Troops Home Now
▪ Fast for Peace
▪ International Day of
Peace
▪ Sign On for Peace
▪ Middle East Statement
▪ Mother's Day 2007
▪ Patriot Act
Mother's Day 2007
Thank you to all who attended our Stand in the Park for Peace event on Saturday, May 12th!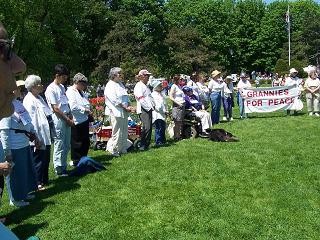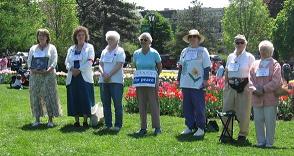 Grannies, Mothers, & Daughters joined together in a silent vigil at Albany's Washington Park Tulip Festival. The group continued to expand until there were between 70 and 80 women. We did wonderfully at maintaining a strong and moving silence.

This silent vigil took place in a number of cities & towns across the US, as well as in 70 countries throughout the world! It was inspired by the book,
The Great Silent Grandmother Gathering, by Sharon Mehdi
But Silence is Not Enough: For all our children's sake, wage peace…
Express your desire for peace in the world…
Voice your outrage that we continue to wage war in foreign lands…
Show your community and government that you stand for peaceful solutions…
Gather with like-minded individuals in a spirit of love and harmony…
Following the hour-long silent vigil, women spread out in pairs throughout the park, distributing leaflets about the event.

Click here to see more Mother's Day pictures.


In 2006, Women Against War activists were also at the Tulip Festival, calling on the US not to attack Iran.