Contingency Plan in Case of Overt Attack on Iran
Talking points on Iran, the US and Israel
Recent Events
With the cooperation and energy of Mahmood Karimi-Hakak, a professor of film and theatre arts at Siena College, The Iran Project of Women Against War began what we hope will be an ongoing series of Iranian films and discussions that will help people to understand more about the people and culture of Iran. This film series wouldn't have been possible without the organizational skills and attention to detail of Marcia Hopple, or the energetic spirits, love of the Iranian people, fine film choices, and wonderful moderation of Alice Brody, Diane Reiner and Leila Zand. Although not many students attended, these films were seen by people from the peace community and from the Iranian American community. The discussions among audience members were very interesting and the films were both moving and educational.
At our November meeting we decided to work towards a spring showing of more Iranian films on another college or university campus in the Capital District. The urgency for such cross cultural understanding grows with the new threats of a military attack or severe economic sanctions against the people of Iran.
Opening films in the Iranian Film Festival, October and November 2011 October 19, October 26, and November 2, 2011: Women Against War, in collaboration with Siena College's Peace building through the Arts program, has presented three excellent Iranian films on Wednesday evenings, October 19, October 26, and November 2 at Siena. The public was invited to see these highly rated feature length films for pleasure and as a way to learn more about Iranian people and culture. After each film, discussion leaders with
experience in Iran helped the audience to explore questions and observations about Iran that were raised by the stories. Click here to see summaries of each film and names of discussion leaders.
A fourth showing of a film about the history of Iranian Cinematography was added on Monday, November 7, 2011 at 7:00 pm at Siena College, Roger Bacon Hall, Room 202. Learn more.
Video: A Doorway to Persia
Here's a beautiful, eloquent and educational video that came to info at
Women Against War on February 15, 2012. It was made with photos and ideas
gathered by Ymani Simmons, peacemaker.ymani@gmail.com from a 2007 trip to
Iran as part of a FOR delegation. It also addresses many of the questions
raised by the new drumbeat for war with Iran.

I've watched it and I think that it's a powerful teaching tool and another
way to counter the demonization of the nation and the people of Iran and the
propaganda that's increasing the chance of military confrontation.

Please take the time to watch it and to share and use it in your own
peacemaking.
-Mickie Lynn
Photos: Women Against War Demonstration
See below some of the great photos by Alice Brody from the Saturday February 4, 2012 demonstration to prevent war with Iran. "NO War! NO Sanctions! NO Intervention! NO Assassinations against IRAN". Thanks to all the Women Against War members and other members of the peace community who took part.
The "I am an Iranian" photos we held were taken by WAW activist Diane Reiner on her trip to Iran and enlarged and mounted by Mabel Leon..

This was also the first such demonstration that was joined by members of Occupy Albany and visiting members of Occupy Wall Street.
For more demonstration photos, go to
http://www.flickr.com/photos/brodya/sets/72157629201544941/
A message from WAW Iran Project member and photographer Diane Reiner: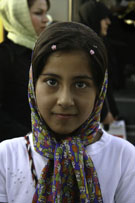 In 2005 I traveled to Iran as part of a small peace delegation. Although we met with university educators and government officials, the most importantIranians we spent time with were people on the streets. I invite you to now
view the Iran I experienced
. It is a country with warm and gracious people proud of their rich cultural heritage and happy to share it with Americans, for whom they bear no hostility.
Please feel free to share this video,