May 25, 2012: Grannies Mark Mother's Day with Focus on Corporations That Profit from War
February 14, 2012: See photos from the WAW demonstration to prevent war with Iran.
February 2012: Talking points on Iran, the US and Israel
November 2011: Women Against War sends our support to the Women of Afghanistan in the International Green Scarves campaign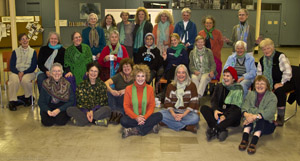 In an effort to support the representation of Afghan women at the December 5th peace negotiations, Connie Houde suggested that we all wear a green scarf and have a group photograph taken at the November 17th Women Against
War annual meeting.
Our picture will be added to the many from around the world that will be posted outside the December 5th Bonn Conference. Women wore a wide variety of green scarves and a group photo was taken that night. This picture was then sent to be displayed with other photos from supporters around the world.
Read more about what the Afghan women are asking.
October 19, 2011: The hidden face of war, Spotlight News article
October 13, 2011: Murals show war's 'human cost', Times Union article
October 12, 2011: See WAW on News Channel 13 for the launch of the Windows and Mirrors exhibit.
September 2011: WAW recently prensented a talk by Becca Heller at the Albany College of Pharmacy & Health Sciences, Iraqi Refugees, An Ongoing Crisis, A Broken Obligation. See the press release. Download a poster.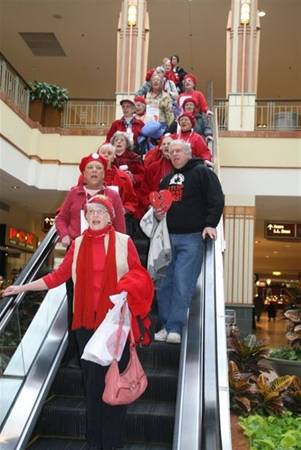 May 2011: Grannies for Peace Tulip Fest Demonstration
February 2011: Grannies for Peace Valentine's Day demonstration
October 2010: Grannies for Peace demonstration against war in Afghanistan
March 8 was Women on the Bridge: International Women's Day Peace Demonstration. Read more.